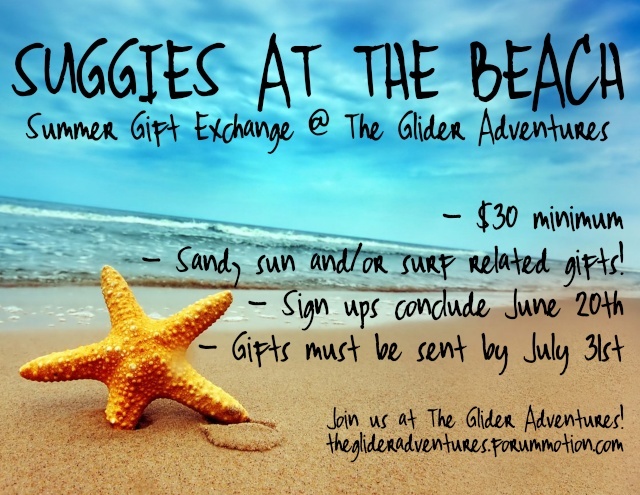 Suggies at the Beach - Gift Exchange!
Hi folks, it's that time again! GIFT EXCHANGE TIME! This time the theme is "Suggies at the Beach", so it is glider related, and beach themed!
Items can be beach, sea, sand, fish, water, or otherwise summer themed. As long as it related in some fashion to the beach!
The down and dirty:

There is a
$30 minimum
. You can send more than $30 if you like, but don't expect to get more than $30 in stuff back.

Items MUST be for gliders, and MUST fit within our theme. If you want to throw in non-glider items, they are
not
included in the $30 minimum.

Items
must be in new condition
.

Items can be home made, but they must be
safe and quality
items.

Items must be sent to your buddy by
July 31st
.

You must use delivery confirmation
. (And you must send the info to
Sara
once you ship)

Anyone can join, but they must be a member here.
As usual... if someone is an asshole and doesn't send to their buddy, they'll be banned form future exchanges, and their membership within our community will be put under consideration. Also, i
f you send unsafe, or poor quality items, you will be forced to sit out of the next gift exchange
. If it happens again, you will be banned.
To sign up, PM Sara
. Include your name, address, number of gliders and cages, and any preferences [no pink, etc]. Sign ups will conclude on
June 20th
. Then we will match up buddies! It will be your responsibility to get in contact with your buddy to get their address, and any other information you might want. Buddies should be contacted ASAP to give you the most time to get your gifts in order and sent out.
Related topics:

Gift Exchange General Chat

Gift Exchange WIsh List

Gift Exchange Thank Yous

Vendor Sales
_________________
Gliding back to the top
Be sure to invite your friends! All they have to do is join the forum and do their minimum post. Go!
_________________
Don't forget to post in the wish list forum!
_________________
GUYS! Less than a week left to send out your gifts! Please PM Sara your tracking number when you ship

Can't wait to see what everyone gets!
_________________


Similar topics
---
Permissions in this forum:
You
cannot
reply to topics in this forum